I tried mulled wine in Austria for the first time, where it was ladled into paper cups and I wrapped my hands around it to warm my fingers while browsing the Christmas market. I was still in high school, so drinking wine on cobbled streets lined with snow was that much more delicious.
Plus, as I've learned from mulling wine at home, by the time the pot had been left to simmer in the cold for hours while chilled shoppers grabbed a cupful for a few euros, a lot of the alcohol evaporates (but not all of it!). That is why, when making it at home, you steep the spices and dissolve the sugar in a small amount of wine first. Then you add the rest of the alcohol, which is warmed through but not enough to knock off all that warming kick.
See below for my original, full post on Wine365 on mulled wine, and under that is the recipe I recently used at home. Mulled wine is very forgiving, so if you have more or less the spices on hand, you will love it.
What kind of wine should you use?
To make mulled wine, opt for a fruity red that is not the $60 Napa Cab on your shelf. The spices and sweetness will cover up nuances and complexities, so get something on the less expensive side that you nevertheless wouldn't mind drinking on its own.
Below is a classic recipe. Adjust the ingredients according to taste or enjoy it just the way it is. A note: many recipes call for the addition of brandy, but the added spices and flavor of Port wine give it a delicious boost—pick your favorite!
Recipe for Mulled Wine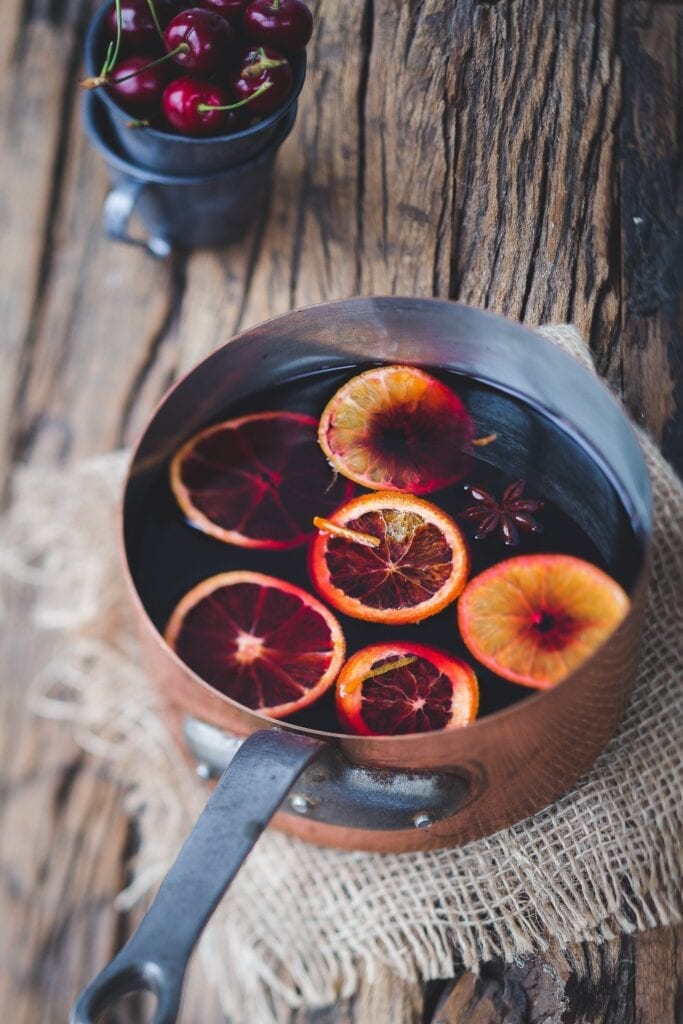 Ingredients:
2 bottles of fruity red wine (recommended: St. Francis Sonoma County Merlot)
3/4 cup sugar (or to taste; I don't do super-sweet)
1 organic lemon
1 organic orange
2-3 star anise
8 cloves
2 sticks cinnamon
1/2 teaspoon black peppercorns
Pinch of nutmeg
1.5 cups Tawny or Ruby Port (recommended: Fonseca Bin No.27 for a Ruby, and Croft Reserve Tawny)
OR (and..?)
1/2 cup brandy
Instructions:
Peel all the skin from the orange and one peel from the lemon. Juice the orange. Combine the fruit skin, spices, sugar, fresh orange juice, and just enough wine to cover the sugar in a saucepan. Heat the wine to boiling, turn down to a simmer, and stir constantly for 20 minutes or until it becomes a syrup. Add the rest of the wine and Port wine or brandy and keep warm (not boiling, so as not to evaporate all the alcohol).
Optional ingredients:
1 apple, sliced thinly
Peel of 1 lime
2-3 bay leaves
1 vanilla pod
Pinch of ginger
Pinch of nutmeg
Have you successfully made mulled wine at home? Let me know your favorite recipe, and I'll be more than happy to try it out!